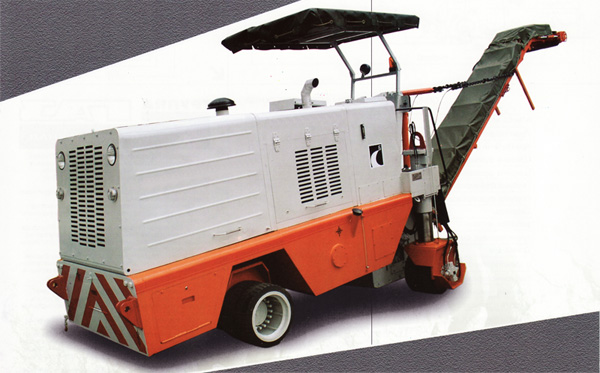 Asphalt Cutter K-1000-01[675]
TECHNICAL SPECIFICATIONS
Weight, kg
14 250
Output, ml/h
Milling depth of 100 mm
280
Milling width, mm
1 000
Milling width by lateral planer, mm
125
Milling depth, mm
up to 200
Milling depth by lateral planer, mm
up to 75
Speed:
working, m/min
1.5...30
transport, km/h
up to 7
Length,mm
With conveyer
11 450
Without conveyer
5 050
Maximum width, mm
2700
Height with conveyer, mm
3 380
Charpe heipht.mm
3 150
COLD PLANER UNIT STRUCTURE
Engine
DEUTZ BF6M1013CP
Engine power, kvt
182
Bogie hydraulic drives are set on the base of one controlled hydropump and four noncontrollable hydroengines on everyone drive motor - wheel.

Motors - wheels with the built - in disk brakes in an oil bath.
The planer drive consists of the hydroengine and planetary pressure regulator. The pressure regulator is inside the tool.
On the planer are established 89 cutters.
The planer provides an opportunity of cutting the coverings near the edge of pavement, in almost impassable places, across the roadways.
At consumer's request the planer can be completed with a mill of width 125 mm which is established on bulge out part of the axis of the milling drum in cantilever on the right and is intended for opening pf the border stone and cutting of ditches.
Tne rotary loading conveyor allows during milling to load the material in different types of vechicles, dump trucks.
The planer has steering management with hydrospace drive and quiding drive axle.
For cooling of the milling drum cutters through the system of spraying jet the water pump feed the water under the pressure up to the 0,3 Mfla in the cutting zone. The water supply provides continuous work of the mill during 30 minutes.
The operator is protected from direct sunbeams and precipitationby specially established awning. For work convenience the operator seat is adjustable.