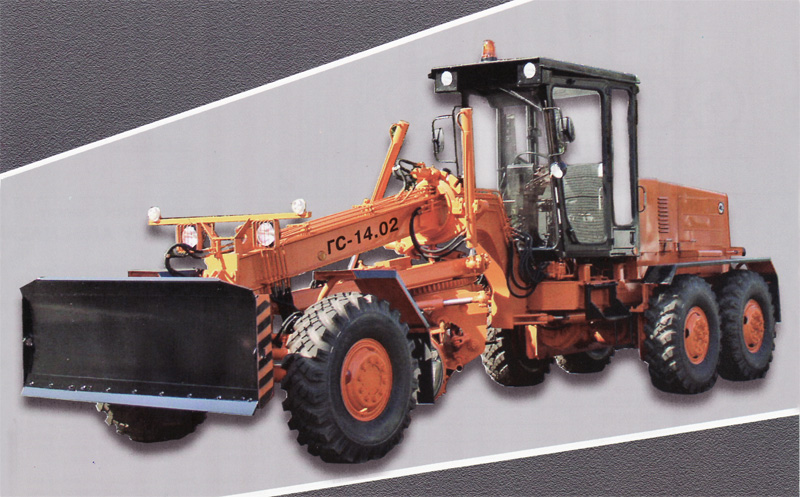 Motor Grader - GS-14.02
TECHNICAL SPECIFICATIONS
Operating weight, kg
13 700
Length with mountingequipment
9 340
Width, mm
2 500
Height including cab, mm
3 340
Height including flashlight, mm
3 475
Base, mm
6 000
Minimal radius of turn, m
7,5
Speed, km/h
4,1...34,2
MOLDBOARD:
Length of blade, mm
3 740
Height of blade, mm
620
Lift above ground, mm
450
Max. shoulder reach, mm
700
Slope cutting angle, degree
0-90
MOTOR GRADER UNIT STRUCTURE
Engine: ЯM3-236 Г6
Д-260/ 14-81
Useful power, kWt (h.p) 110
100
Power density, kwt/t 8,66
7,87
Torque 667
682
Gear-box
mechanical
Number of gears:forward/reverse
6/2
Gimbal gear
2 joints
Front axle
driven
Rear axle
drive
Dimension of tires
14.00-20
Wheel formula
1x2x3
It is equipped with an up-todate diesel turbocharged engine, proveding stable functioning even in a high mountain conditions.
The cab provides excellent visibility equipped with heater and additional lights.
Working members operation is hydraulic from gear pumps with distributors under the cab in protected from dust and moisture place. The distributors drive is lever.
Articulated frame and turning moldboard with its significant shoulder reach allow the grader operator to cover wide road surface effectively using the dozer and grader blades. Thanks to all-around moldboard turning it is possible to conduct profiling and on reverse movement that raises the productivity of the grader.
The bicircuits system is equipped with working and reserve brakes with a distributor from pneumohydroac-cumulator, that allows the motor grader to make at least five brakings when its engine is shut down. Because of application in brake system of the hydraulic liquid of the basic hydrosystem, service costs are reduced.
It'a possible installation of prestarting engine heater, air conditioner, automatic control system able to check the working members " MOBA" (Germany), cab FOPS-ROPS.
Aditional equipment: turning dozer blade, rear ripper, scarifier is in Motor grader base, lateral blade for removing snow over barriers: (OBG-2), lateral blade for broadening roadbed, roadside and slopes snow removing snow zone and for braking snow banks (OBG), blades for removing snow, produced by "Olofsfors AB" (wear resistance), front snow removing equipment, blade extension.