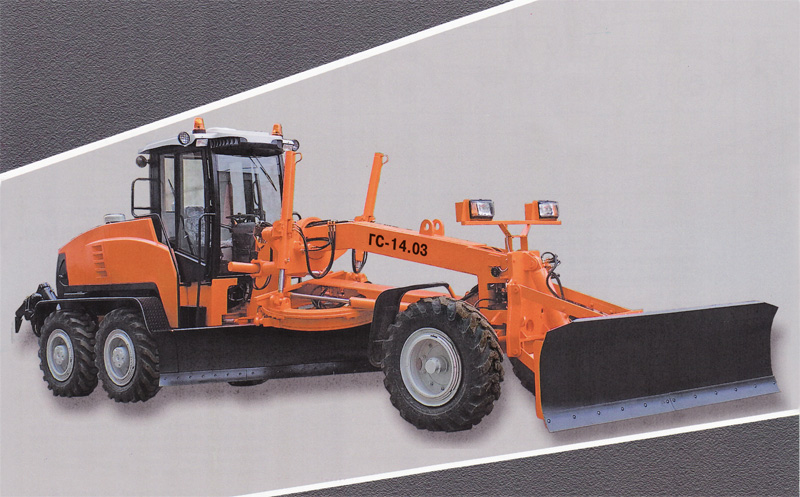 Motor Grader-GS-14.03
TECHNICAL SPECIFICATIONS
Operating weight without mounting equipment, kg
13 700
Operating weight including moldboard, kg
14 527
Length without mounting equipment, mm
8 600
Width, mm
2 540
Height including beacon, mm
3 550
Wheel base, mm
6 200
Minimal radius of turn, m
7,8
Speed, km/h
3,8...40,5
GRADER BLADE:
Length of blade, mm
3 660
Height of blade, mm
630
Lift above ground, mm
730
Blade offset, mm
700
Turning plane angle, degree
±65
Slope flattening angle, degree
0-90
Dimension of tyres
14.00-20 cross-country capacity
Wheel arrangement
1x2x3
Pressure on blade, kg
7 400
Tractive force on blade, kg
8 500
MOTOR GRADER UNIT STRUCTURE
Engine: ЯM3-236 Г6
DEUTZ AG BF04-M1013FC
Useful power, kWt (h.p)
103 (140)
117 (160)
Gear box
«ZF», Germany
hydromechanical
Number of gears: forward/ reverse
6/3
Driveline
1 cardan
Front axle
nondriving
Rear axle
driving
Hydraulics with fixed-capacity and unloading. Dual circuit brake system with hydraulic amplifier of braking forces, with pressure equalization and reserve driving gear.
Modern cab design and interior. The cab provides the highest level of visibility, it has streamlined plastic roof, windscreen blowing, combined extract and input ventilation, sliding doors, «Pilot» operator seat and adjustable steering column. All control elements are in 90° sector in front of the operator and on the right of him. The cab is equipped with «FOPS-ROPS» protection system.
Articulated frame and turning grader blade provide wide road coverage effectively using the dozer blade and other replaceable equipment. Full range of attached tools for installation on the front frame and rear frame. The grader's bonnet is folding with gas dampers.
By customers special order the cab can be equipped with air conditioner and system of automatic control of grader's blade.