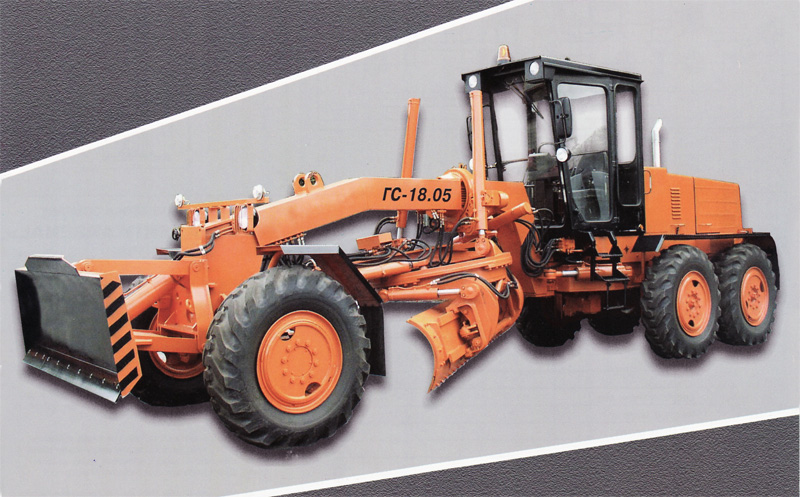 Motor Grader-GS-18.05
TECHNICAL SPECIFICATIONS
Operating weight, kg
15 800
Length with mountingequipment
10 860
Width, mm
2 550
Height including cab, mm
3 455
Height including flashlight, mm
3 580
Base, mm
6 200
Minimal radius of turn, m
8
Speed, km/h
3,2...40
MOLDBOARD:
Length of blade, mm
3 660 (4 200)
Height of blade, mm
630
Lift above ground, mm
450
Max. shoulder reach, mm
700
Slope cutting angle, degree
0-90
MOTOR GRADER UNIT STRUCTURE
Engine
ЯM3-236Д-4
Eng.power, kwt
130
Power density, kwt/t
7,88
Torque
667
Gear- box
mechanical
Number of gears:forward/reverse
12/4
Gimbal gear
1 coupling
Front axle
driven
Rear axle
drive
Dimension of tires
14.00-24
Wheel formula
1x2x3
The motor grader is fitted with service, stand-by and parking brake systems. Stand-by brake system allows the motor grader to make at least five brakings when its engine choked or pumps are out of order.
Working members operation is manual combined distributing working fluid flow by electric hydraulic control valves fitted close to final-control devices to provide better visibility.
Gear box hydraulic tightening couplings, providing gears changing within the limits of a range without breaking the power stream- "Power Shift".
Rear axle is self-locking, with free stroke differential "NOU SPIN". Articulated frame and rotary grader blade allow wide road coverage, effectively using bulldozer blade, grader blade and over replaceable equipment.
By customers special order the cab can be fitted with air conditioner, "Pilot" operator seat and system of automatic control of working bodies "Moba" (Germany).
Additional equipment: rotary bulldozer blade, rear mounted ripper, ripper scarifier in the base of motor grade, lateral equipment.