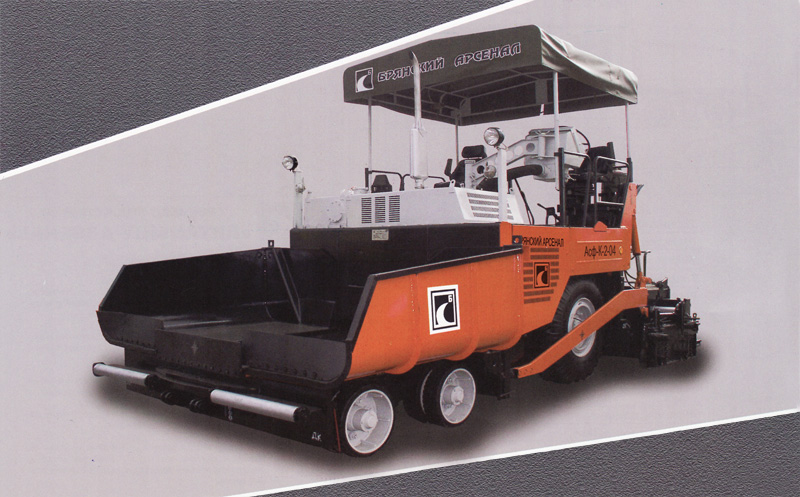 Asphalt Paver ASF-K-2-04
TECHNICAL SPECIFICATIONS
Productivity, t/h
up to 350
Width of paving, m
2,5...4,5(stepless)
Thickness of paving, mm
up to 250
Batcher capacity with a tunnel, t
10
SPEED:
Working speed, m/min
up to 20
Transport speed, km/h
up to 18
Rammings beams beat frequency,Hz
30
General dimensions,mm:
Length
6 285
Width: In working position
3 120
Width: In transport position
2 530 without flanges
Height: With raised awning
3 950
Height: With lowered awning
3 100
Weight, kg
14 500
ASPHALT PAVER UNIT STRUCTURE
Engine Type
diesel
Model
D 245
Power, kwt
77,2
To improve the operator working conditions, the asphalt paver is fitted with a rotary control panel, allowing to operate the machine from any machine side.
The asphalt paver serial is fitted with control-diagnostic system supervising 15 parameters of hydrosystem and the engine.
For maintenance of high purity of the working liquid of hydrosystem all pipelines are made of stainless steel.
As power hydraulic equipment on the asphalt paver the import hydroequipment is established.
The tool of asphalt paver ASF-K-3-02 is executed on telescopic cylinders, with "rigidity" of the tool providing the greatest possible accuracy of asphalt-concrete mixture paving.
Reversible feeders and auger have a separate onboard drive. The feeder drive are controlled, and the auger drive are with discrete electro controll and function manually as well as automatically.
The driving mechanism of asphalt paver is fitted with the adjustable hydropump and the hydroengine so as to make optimal speed selection easier for the operator.
Additional equipment: automatic system used for control of asphalt smoothing platform position, gas heating system for asphalt smoothing platform, replaceable fusions.